Dylan Meconis takes a playful approach to history in her graphic novel Queen of the Sea, which represents the diversity of female experiences in the 16th century.
Though inspired by the life of Elizabeth I, Dylan Meconis's graphic novel Queen of the Sea (Candlewick, Jun. 2019; Gr 6 Up) is a departure from most titles about the Tudors. Rather than faithfully re-creating the lives of Henry VIII or Anne Boleyn, the author has crafted her own characters, myths, and backstories, set in a world that evokes 16th-century England—a technique she refers to as "left-handed history."

Meconis, whose previous works have included "a vampire farce" about the French Revolution and an 18th-century story of German theology and werewolves, prefers this playful approach to history. "I feel uncomfortable ascribing thoughts and feelings and cultural attitudes to people who aren't around anymore to say, 'Nope, that is not how it happened'," she says.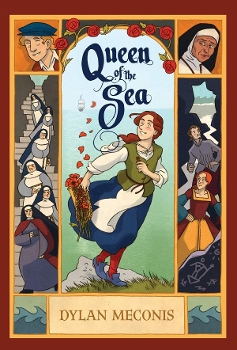 Queen of the Sea follows Margaret, a young orphan who lives a quiet life in a convent on a remote island, with only the nuns, the servants, and the occasional guest for company. But a new arrival upends everything. The former queen of Albion, Eleanor has been banished by her sister, the new monarch, and when she comes to the island, Margaret makes some life-changing discoveries.

Though royal intrigue drives much of the plot, this is a story rooted in the quotidian—history as experienced by an ordinary girl caught up in something greater than herself. "I really tried to focus on the stuff that Margaret, the main character, would be paying attention to and let the bigger world stuff seem just like little bits of story wafting in only when they really became relevant to her," Meconis says.

Meconis spent plenty of time researching Tudor England, but she was less concerned with dates of battles or the lines of succession than with details of monastic life: daily prayers, the sign language that the nuns used during silent meal times, and animal husbandry. "I think I lost a day to researching heritage goat breeds," she adds.

Reading primary source material also gave her a feel for the period. Some of her favorite finds were documents transcribed by a young English law clerk, who drew elaborate illustrations, making capital letters on boilerplate forms look like fish or horses.

"Clearly he was bored out of his mind and had a blast," she says. "It gave me a sense of how someone who had access to printed materials and art but not necessarily training as a professional artist might draw or doodle." The clerk's artwork inspired Margaret's drawings in the book.

Elizabeth I's famous Tide Letter offered Meconis a more intimate view of the monarch. A young Elizabeth wrote the letter while waiting to be taken across the river Thames to the Tower of London, where—on orders of her half sister Mary I—she was to be imprisoned for her involvement in the Wyatt rebellion. Stalling for time, Elizabeth wrote slowly, and eventually the tide turned, making it too difficult for boats to pass under the London Bridge and delaying her imprisonment by another day.

"That letter really affected me and sparked my imagination about what this kid was going through and what a hustle she had," Meconis says. "I ended up using that handwriting as the basis for one of the fonts in the book."

Though history books are dominated by accounts of wealthy white men, Meconis stresses that reality tells a different story. "The gender ratio and the ethnic makeup of the world of the past were definitely not tilted toward white dudes during any point in time ever." The author chose to make Sister Agnes, head of the convent, a woman of color to combat the misconception that only white people played important roles in Western history.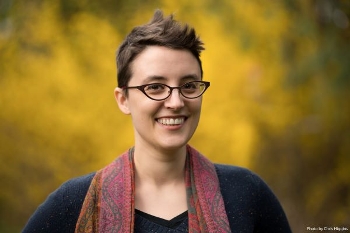 Photo by Chris Higgins

"There was a huge diversity of female experiences, and women contributed massively to the economy and massively to cultural history, and they also had their own internal culture of gender," Meconis says. "Women's relationships with each other in the 16th century were vital and intense."

Relationships between female characters are key to the story, as Margaret begins to realize that both the imperious Eleanor and Sister Agnes, who's been a guiding, mothering presence in Margaret's life, are concealing secrets.

Just as the book blends fact and fiction, it's a hybrid of another sort. Graphic novel–style panels alternate with text-heavy pages, resulting in a rich depiction of Margaret's world. Meconis describes her reliance on both prose and illustration as "a bit like playing piano, where you've got your left hand and your right hand complementing each other and playing off of each other."

As an author and illustrator of graphic novels, Meconis is acutely aware that some educators and parents still disdain the medium or see comics as merely a gateway to prose novels—an idea that "drives me bonkers," she says. "It's kind of like saying movies are a gateway to theater." As a literacy mentor for elementary schoolers, she's seen how irresistible comics are to readers, and she believes strongly that graphic novels are a force for good.

"You have a lot of power as a graphic novel creator because you have so much impact over how the reader experiences the story, more so than in prose."