From clowning skills to creating forts, here are some great books to help get kids (and their grown-ups) away from screens for a bit.
From clowning skills to creating forts, here are some great books to help get kids (and their grown-ups) away from screens for a bit.
Bathe, Buff, and Beautify: DIY Crafts and Recipes for Natural Body Care by Aubre Andrus. Capstone. ISBN 9781515734468.
"Looking beautiful is all about feeling beautiful!"proclaims this upbeat, pastel compendium of mixtures that cleanse, moisturize, and style every inch of a young person's epidermis and hair.
Wildlife Ranger Action Guide: Track, Spot & Provide Healthy Habitat for Creatures Close to Home by Mary Kay Carson. Storey. ISBN 9781635861075.
This action guide encourages children to set up their own wildlife preserve in their backyard. The text covers animals found in North America, primarily focusing on the United States. Readers are advised to create and keep a notebook listing all the backyard wildlife they observe.
Plant, Sow, Make & Grow: Mud-tastic Activities for Budding Gardeners by Esther Coombs. illus. by author. Button. ISBN 9781787080256.
This colorful how-to guide for new gardeners includes step-by-step instructions, art projects, and science experiments. Featuring bright and detailed illustrations, it takes a wide range of gardening topics and divides them into manageable sections.
DIY Circus Lab for Kids: A Family-Friendly Guide for Juggling, Balancing, Clowning and Show-Making by Jackie Leigh Davis. Quarto/Quarry. ISBN 9781631593475.
If readers have ever wanted to join the circus or learn how to juggle, walk a tightrope, or become a clown, this title can help them do just that. The author has been involved with circus activities for many years and has designed this guide for the novice.
The Kitchen Pantry-Scientist: Chemistry for Kids: Homemade Science Experiments and Activities Inspired by Awesome Chemists, Past and Present by Liz Lee Heinecke. Quarto/Quarry. ISBN 9781631598302.
Heinecke offers a hybrid nonfiction text for middle grade readers as well as extensive parental support for dynamic at-home experiments. The biographies of 25 role models of the chemistry community, past and present, are organized in chronological order of the chemists' birth year, showing a progression of key scientific discoveries and changes.
Crazy Contraptions: Build Rube Goldberg Machines That Swoop, Spin, Stack, and Swivel: with Hands-On Engineering Activities for Kids by Laura Perdew. Nomad Pr. ISBN 9781619308268.
Inspired by cartoonist (and trained engineer) Rube Goldberg, Perdew intersperses introductions to six simple machines from inclined planes to screws, explanations of Newton's laws of motion, and projects that use these principles and tools to show energy in motion and sequential actions.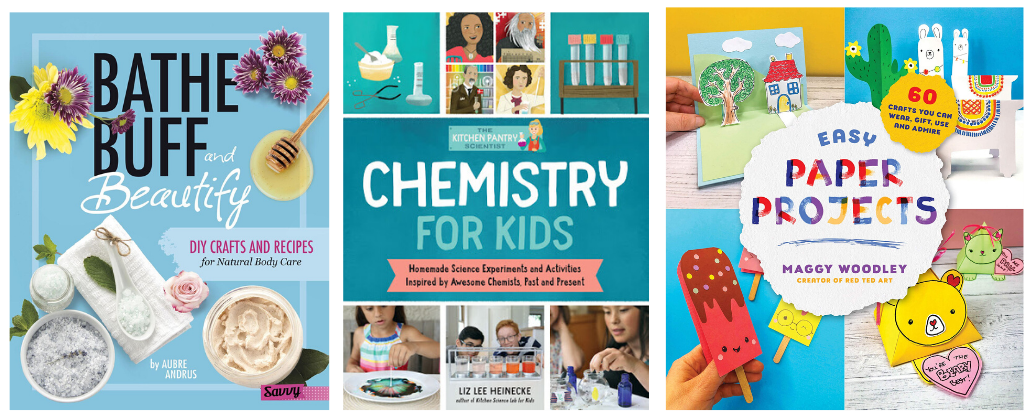 The Human Body: Get Under the Skin with Science Activities for Kids by Kathleen Reilly. illus. by Alexis Cornell. Nomad Pr. ISBN 9781619307988.
Reilly blends human body facts with activities to create a useful and appealing STEM book. Starting with the cardiovascular system and going through reproduction, genetics, diseases, and immunity, eight chapters offer information and projects that aim to please.
Forensics: Super Science and Curious Capers for the Daring Detective in You by Anne Ruppert & Kate Messner. National Geographic. ISBN 9781426337444.
This book sets up four different mysteries that need to be solved using forensic science. Each mystery starts off with an explanation of the scenario, presents evidence, shows readers suspects with motives, and explains how to investigate the evidence.
Climate Change: The Science Behind Melting Glaciers and Warming Oceans with Hands-On Science Activities by Josh Sneideman & Erin Twamley. illus. by Alexis Cornell. Nomad Pr. ISBN 9781619308992.
Climate change (or global warming) is proving to be a long-range problem impacting everything from tiny diatoms to humans. Sneideman and Twamley approach the complex subject with a conversational, nonsensational text full of informational boxes, colorful diagrams, photos, and maps, attempting to present cause and effect for middle school students.
Treat Yourself!: How To Make 93 Ridiculously Fun No-Bake Crispy Rice Treats by Jessica Siskin. illlus. with photos. Workman. ISBN 9780761189800.
Yes, you can use the recipe from the back of a cereal box. The strength of this volume, however, is its variety of themes and nuanced suggestions of ingredients and techniques. While cooks experienced with cake decorating and other edible art might not learn a lot, novices will gain much expertise.
Nature Play at Home: Creating Outdoor Spaces That Connect Children with the Natural World by Nancy Striniste. Timber. ISBN 9781604698251.
Building tree houses, climbing trees, and playing ball in backyards are many adults' favorite childhood memories, but structured and supervised may better describe kids at present.Landscape designer and early childhood educator Striniste offers up some good news, however, producing this resource after receiving inquiries from families, schools, early childhood programs, and municipalities looking for places for their children to play in nature.
Make a Dinosaur Your Way! by Rachael L. Thomas. illus. with photos. ABDO/Super Sandcastle. ISBN 9781532117169.
Instead of laying out projects like recipes, these books provide a loose framework and helpful prompts to get makers thinking about the design decisions that will guide their project: shape, scale, and function.
Easy Paper Projects: 60 Crafts You Can Wear, Gift, Use and Admire by Maggy Woodley. Page Street. ISBN 9781624148507.
Woodley's goal is to provide "easy, fun, doable" craft projects with minimal preparation, mess, and supplies. Most projects can be created with a variety of paper colors and weights, ribbon or string, items from the recycling bin, office supplies, and a needle and thread.
The Water Cycle!: With 25 Science Projects for Kids by Anita Yasuda. illus. by Tom Casteel. Nomad Pr. ISBN 9781619308671
Most life on Earth requires water in order to function properly. It's imperative to know and understand this vital substance. Yasuda presents basic information about water, its importance, how people use it, and how people need to take care of it.