Superheroes and comics go together like mac and cheese. These 10 graphic reads celebrate heroes, from Black Canary and Green Lantern to Dog Man, Super Potato, and, yes, Rainbow Brite.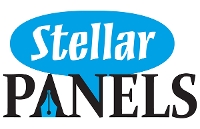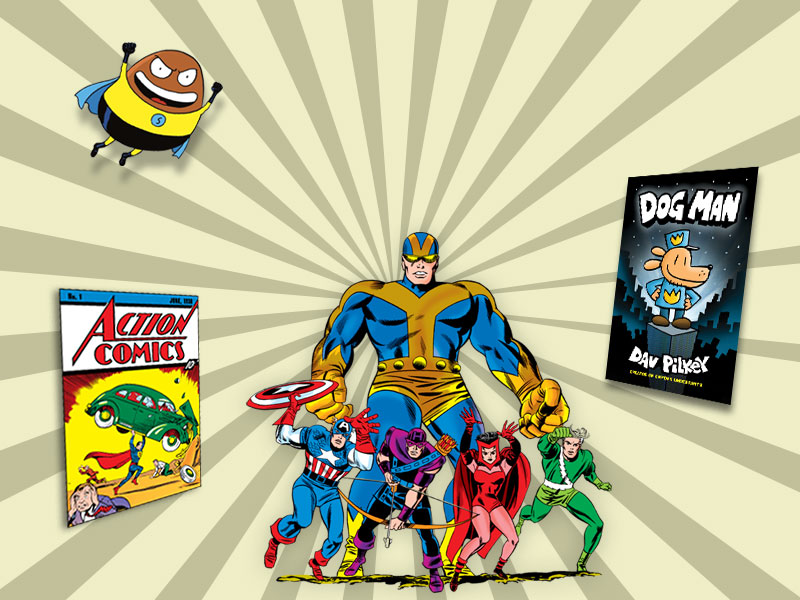 Superheroes and comics go together like mac and cheese. While stories with daring characters have been popular since forever—think Hercules and Robin Hood—nobody called them superheroes until comics came along. And it was superheroes who pushed comics into the mainstream: It's generally agreed that the golden age of comics began in 1938 with the first appearance of Superman, in Action Comics #1. Costumed superheroes have been a mainstay of the medium ever since.
That first Superman had many traits of superheroes that endure to this day: a special costume, a secret identity, and an origin story. Since then, thousands of superheroes, with a variety of superpowers, have appeared in comics. Some, such as Superman, are born with their powers, while others get them as a result of an event—for instance, when a radioactive spider bit Peter Parker and turned him into Spider-Man. Batman is one of just a handful of superheroes who have no innate superpowers but use a combination of acquired skills and technology to perform seemingly superhuman feats. On the flip side are supervillains, who use their powers for evil rather than good and give the superheroes worthy opponents to match wits—and skills—against.
Superhero comics flourished in the 1940s, '50s, and '60s, when the monthly comics were cheap and widely available on newsstands. Each story was complete in a single comic. For the most part the stories were kid-friendly but not specifically for kids, which made them popular with a wide range of readers. Starting in the 1970s, monthly comics disappeared from newsstands and reemerged in comic shops. Comics became a specialty market catering to a narrow audience, and now most superhero comics have mature themes and complex, multipart stories that often cross over from one title to another.
Nonetheless, the characters have stayed popular with the public, thanks to television and film adaptations, including animated series. Today, millions more people encounter superheroes on the screen than on the page, and Spider-Man, Captain America, and Batman logos can still be seen on everything from lunch boxes to sports cars.
So while the comics became a niche medium, superheroes have never lost their luster, and the rise in popularity of graphic novels has brought them back in a big way—for children as well as for adults. In fact, the top-selling middle grade graphic novel series, "Dog Man," is basically a superhero story, and the top-selling manga, "My Hero Academia" (Viz), is set in a school for superheroes.
Not surprisingly, the Big Two superhero publishers, Marvel and DC, have been retooling the superhero comic in different ways to bring in younger readers. After launching the middle grade DC Zoom and YA DC Ink graphic novel imprints last year, DC announced in June that it was rebranding, with a new DC Kids imprint for ages eight to 12, the main DC line comprising comics for readers ages 13-plus, and DC Black Label focusing on 17-plus comics (including those published under its former Vertigo label). That's an interesting shift, because it means that DC is thinking of teens as well as adults as the default readership. The DC Zoom line had books planned through next January, so it's not clear what imprint those will carry when they come out.
Marvel, meanwhile, has licensed its characters to IDW Publishing to create middle grade comics (which are then collected into graphic novels) featuring Spider-Man, Black Panther, and the Avengers. Marvel is also collecting some of its middle grade and teen-friendly monthly comics into chunky trade paperbacks, including the Marvel Super Hero Adventures series, which feature kid-friendly versions of Spider-Man, Captain Marvel, Black Panther, and other popular characters.


Super Graphic Reads
Black Canary Ignite, by Meg Cabot & Cara McGee (DC Comics, Oct. 2019)
Gr 3-7–Black Canary's superpower is a sonic scream that can shatter glass and other objects. Thirteen-year-old Dinah Lance, daughter of the first Black Canary, inherited her mother's voice, but it's more awkward than useful in middle school, especially when the principal blames her every time something breaks. This is a great slice-of-school-life story with a superhero twist, and a good pick for fans of Raina Telgemeier and Svetlana Chmakova.
Diana: Princess of the Amazons, by Shannon & Dean Hale (DC Comics, Jan. 2020)
Gr 3-7–This graphic novel features young Diana, who has not yet become Wonder Woman. At 11 years old, she's in that awkward stage: too old to be cute, not old enough to do anything meaningful. Bored and lonely, she falls prey to a supernatural friend who's fun, at first, but leads Diana to trouble. The panels are simple and uncluttered, making this a good choice for younger readers.
Dog Man, by Dav Pilkey (Scholastic, 2016)
Gr 1-4–Dog Man is a goofball hero with a weird origin story: A tough but dumb cop and a smart dog are blown up by a villainous cat, and to save them, doctors stitch the dog's head onto the cop's body, creating a tough, smart cop with a dog's mug and personality to match. Drawn in a childlike style, the story features misspellings, scratchouts, and poop jokes. However, some of the humor is brilliant—in one bit, dozens of hot dogs come to life and form a hot dog army. The story has a lot of heart as well. The seventh volume of Dog Man's adventures, Dog Man: For Whom the Ball Rolls, published in August.
Encounter: Vol. 1, by Art Baltazar, Franco, & Chris Giarrusso (Lion Forge, 2018)
Gr 4-7–Encounter is a classic superhero tale delivered in a smooth package for modern readers. Baltazar and Franco, the team behind "Tiny Titans," have cooked up a goofy, earnest tale of an amiable boy superhero named Encounter and his sidekick, Barko, a dog. Chris Giarrusso ("G-Man") brings it to life in an updated take on the golden-age style, delivering easy-to-follow, action-packed pages. With simple art and preposterous supervillains (there's a shark that's half fire, half ice), Encounter is a good pick for young readers.
Green Lantern Legacy, by Minh Lê & Andie Tong (DC Zoom, Jan. 2020)
Gr 3-7–The newest Green Lantern is the 12-year-old grandson of Vietnamese immigrants who inherits the ring from his badass grandmother. This graphic novel feels more like a DC comic than other DC books in terms of layout, artistic style, and writing. The story goes into some detail about the concept behind the Green Lantern and others who have worn the ring. It's a good read, although it feels like the first in a series.
Marvel Action Spider-Man: A New Beginning, by Delilah Dawson & Fico Ossio (IDW, Jun. 2019)
Gr 4-7–By some crazy coincidence, the three students who sign up for the same newspaper internship are none other than the three Spider heroes: Peter Parker, Miles Morales, and Gwen Stacy. They eventually come to understand their identities—Spider-Man, Spider-Man, and Spider Gwen, respectively—and then team up to battle mutant lizards. Dawson's art recalls traditional superhero comics, so this doesn't look like a kids' volume.
Marvel Super Hero Adventures: Captain Marvel, by various (Marvel, Jan. 2019)
Gr 1-3–Captain Marvel and Spider-Man join forces to stop Ultron from trashing their schoolyard in the main story of this paperback, which collects several comics featuring a range of Marvel characters. The art and stories are kid-oriented, starring characters with oversize heads and cute features, while the stories are pretty basic superhero fare. Parodies of traditional Sunday print comics that appear between the stories may puzzle kids, but they're enjoyable puzzles nonetheless.
Rainbow Brite, volume 1, by Jeremy Whitley, Brittney Williams, Xemia Pamfil, Christine Hipp, Valentina Pinto and Taylor Esposito (Dynamite, 2019)
Gr 4-6–A concept born of Hallmark Cards, Rainbow Brite has had multiple incarnations over time. In this comic, Princeless writer Whitley imagines her as a reluctant superheroine who is not at all convinced she is the one to save Rainbow Land from the color thieves—even when she gets the magic scepter and transforms into a magical girl, with a rainbow costume and superpowers. The writing is witty, and the art is clear and easy to follow. Unfortunately, the comics series has ended, so it's not clear there will be any more volumes. This one is well worth a read.
Superman of Smallville, by Art Baltazar & Franco (DC Comics, Sept. 2019)
Gr 3-7–Clark Kent is 13 years old in this story, still living on the farm with Ma and Pa Kent and just starting to explore his superpowers. Arguing with his parents, led astray by the slimy teenage Lex Luthor, and acting charmingly awkward around girls, Clark could be a character in Archie comics, except for the sentient spaceship that keeps popping up and ruining his plans.
Super Potato #1: The Epic Origin of Super Potato
Super Potato #2: Super Potato's Galactic Breakout
Super Potato #3: Super Potato's Mega Time Travel Adventure
By Artur Laperda (Lerner, 2019)
Gr 2-5–"Super Potato" brings silliness to the traditional superhero story. In the first few pages, a vain superhero is turned into a potato by a supervillain. The superhero retains his powers, but now he's a sentient, superpowered potato with a costume borrowed from his own action figure. Off he goes on three improbable adventures: stopping the supervillain from turning more people into potatoes, freeing the inhabitants of an interplanetary zoo, and using a time machine to try to undo the villain's work by traveling back to before the villain transformed him into a potato. Not surprisingly, these stories are more witty than suspenseful.
Teen Titans Go!, by various (DC Comics, 2015–19)
Gr 4 Up–This tie-in to the Cartoon Network show is a goofy slice-of-superhero-life starring kid versions of a B-team of DC characters. Robin, Raven, Starfire, Cyborg, and Beast Boy all live together and argue, eat one another's pizza, and generally goof around. There's lots of slapstick and kid-appropriate crude humor (e.g., snot jokes). The comic will make more sense to readers who already know the characters, but those who don't will figure it out pretty quickly.