Keep connected to powerful stories of social justice this summer with these streaming shows and books.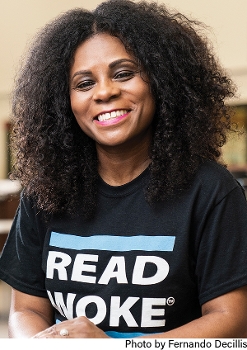 I love reading, but during social distancing, I fell into a reading slump. Suggestions and cheerleading from my Twitter friends helped me get into books again, with some watching mixed in. These shows and books will keep you connected to the woke narratives you love.
If, like me, you loved Anne of Green Gables as a child, don't miss Netflix's Anne with an E (12+). This woke adaptation still centers on the freckle-faced, fiery-tempered redhead heroine but is grittier, darker, and more authentic. As Anne stands up for the rights of Indigenous people and speaks out against slut-shaming, Anne with an E sheds light on injustice and challenges the status quo, while taking the romance out of the orphan narrative.
Fans of Nic Stone's Dear Martin who need something to sustain them while waiting for Stone's new novel, Dear Justyce (Sept. 2020), should tune in to the CW's All American (13+) on Netflix. Like Justyce, Spencer James has to leave his family and community. The football star moves from his poverty-stricken home in Crenshaw, CA, to live in Beverly Hills with a former NFL legend and high school football coach so he can attend a different school and receive better opportunities. An engaging show about race and privilege.
Imagine trying to overturn death row convictions while being imprisoned under the same systemic racism. The ABC show For Life (14+) is loosely based on the life of Isaac Wright, who was wrongly convicted and given a life sentence. In jail, he worked as a paralegal and helped overturn wrongful convictions of 20 inmates and prove his innocence. Also watch and read Just Mercy by attorney Bryan Stevenson, who has dedicated his career to reopening death row cases.
A focus on foster care is one reason I fell for the series The Fosters (14+) and its spin-off, Good Trouble (15+, both Freeform). The Fosters, about a large, mixed-race family of adopted and fostered teens, shows the transformative power of adoptive parents' love. In Good Trouble, two characters from The Fosters navigate life in L.A., battling sexism in Silicon Valley and engaging with Black Lives Matter. (The latest season aired before global racial justice protests.)
Need a dose of magic while social distancing? Two enchanting works star bewitching Latinas: In Netflix's Siempre Bruja/Always a Witch (14+), Angely Gaviria gives an enchanting performance as Carmen, an Afro-Latina enslaved girl with magical powers who must time travel to present-day Cartagena, Colombia, to reconnect with her forbidden love, her owner's son. And Zoraida Córdova's novel Labyrinth Lost centers on Alex, a bruja who hates magic so much that she tries to cast her powers away. After her family vanishes, Alex must journey to another land to get them back.
Netflix's Unorthodox (16+) is loosely based on Deborah Feldman's 2012 memoir Unorthodox: The Scandalous Rejection of My Hasidic Roots. In English with some Yiddish dialogue, the show spotlights a young woman, magnificently played by Shira Haas, who flees her marriage and religious oppression in modern-day Williamsburg, Brooklyn. For fans of Margaret Atwood's The Handmaid's Tale and the Hulu adaptation (16+).
I love when sci-fi meets history—especially history that has been absent from textbooks. Watchmen (HBO, 17+), starring Regina King, tells the story of the horrific Tulsa Race Massacre through a comic book fantasy story. King gives a stunning performance as a Black female heroine who kicks butt and isn't waiting on Prince Charming. Unfortunately, the series wasn't renewed, but for a great companion read, try Jennifer Latham's book Dreamland Burning, which brings the Tulsa Race Massacre to life through dual narrators.
If you dig hip-hop, Angie Thomas's On the Come Up, and Tiffany D. Jackson's Let Me Hear a Rhyme, check out the Hulu show Wu-Tang: An American Saga (17+). Inspired by The Wu-Tang Manual by RZA and Chris Norris and RZA's Tao of Wu, this drama takes a hip-hop journey from early legends to the formation of the world-famous Wu-Tang clan. Learn how these lyrical geniuses rose through poverty, violence, and drugs to become one of the greatest musical groups of all time.
Cicely Lewis (Twitter: @cicelythegreat) welcomes suggestions.