These silly stories are guaranteed to provoke giggles and snorts.
These silly stories are guaranteed to provoke giggles and snorts.
How To Care for Your T-Rex by Ken Baker. illus. by Dave Coverly. Holt/Christy Ottaviano Bks. ISBN 9781250137517.
The author uses the responsibility of pet care to deliver fun dino facts ("A T-Rex can cover fifteen feet in a single step") in this super silly story.
The Little Guys by Vera Brosgol. illus. by author. Roaring Brook. ISBN 9781626724426.
Set in a forest teeming with wildlife, this picture book features tiny cartoon creatures with acorn caps who wreak havoc wherever they go while making their collective stronger.
Underwear! by Jenn Harney. illus. by author. Disney. ISBN 9781368027939.
A small bear would rather play with his pair of underwear than wear them.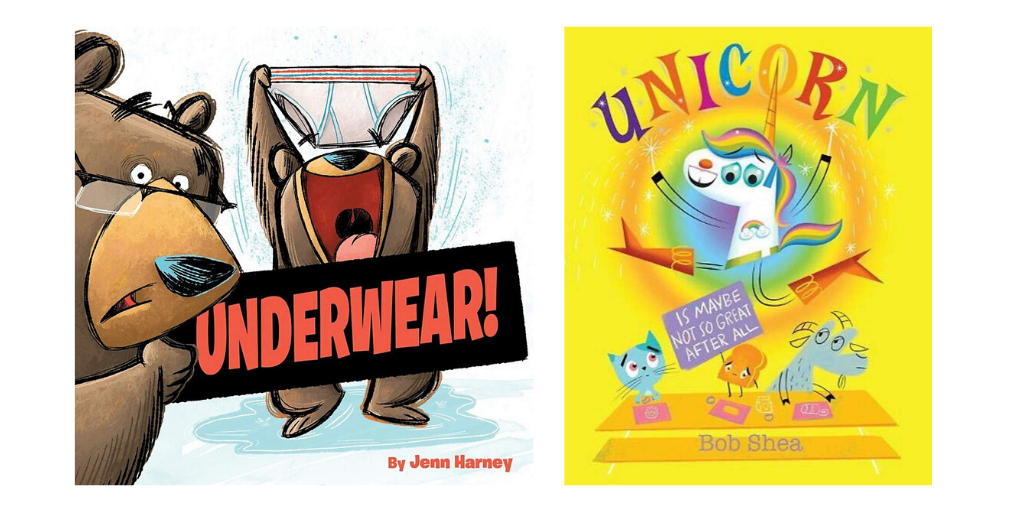 Truman by Jean Reidy. illus. by Lucy Ruth Cummins. S. & S./Atheneum. ISBN 9781534416642.
A tiny reptile knows something's up when Sarah gives him extra green beans, buttons up a brand new sweater, takes a large backpack and leaves the apartment.
Unicorn Is Maybe Not So Great After All by Bob Shea. illus. by author. Disney/Hyperion. ISBN 9781368009447.
Unicorn is ready to start school with his friend Goat, but becomes upset when he is not the center of attention.
Hungry Jim by Laurel Snyder. illus. by Chuck Groenink. Chronicle. ISBN 9781452149875.
Young Jim wakes up one morning supremely hungry. He wanders downstairs, only to eat his mother! This wild tale is part Kafkaesque, part homage to Maurice Sendak.
Snail Crossing by Corey R Tabor. illus. by author. HarperCollins/Balzer + Bray. ISBN 9780062878007.
Snail is a likable protagonist who spots some cabbages and is determined to get one. Unfortunately, the field of cabbages he has spied is all the way across a busy road.
Ducks! by Deborah Underwood. illus. by T.L. McBeth. Holt/Godwin Bks. ISBN 9781250127099.
Four little ducks are quacking along when one gets distracted and wanders off.