These YA sci-fi and fantasy titles offer up magical worlds, and new ways of looking at our own.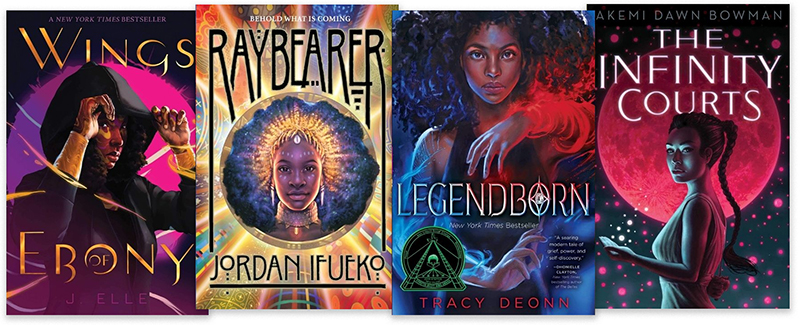 These YA sci-fi and fantasy titles offer up magical worlds, and new ways of looking at our own.
The Candle and the Flame by Nafiza Azad. Scholastic. May 2019. ISBN 9781338306040.
Eighteen-year-old Fatima is a human who carries the fire of the djinn within her.
Kingdom of Souls by Rena Barron. HarperTeen. ISBN 9780062870957.
Arrah is the daughter of two powerful witchdoctors. Her father continues to practice the old magic, while her mother renounced her tribe to serve as Ka-Priestess to the ruler of the Kingdom. Shamefully, Arrah's abilities haven't appeared, but when children start disappearing and her mother turns to darkness, she is the only one who can save the world. This exhilarating fantasy debut, rooted in West African lore, boasts vivid action and delicious family intrigue.
The Infinity Courts by Akemi Dawn Bowman. S. & S. ISBN 9781534456495.
Nami is on her way to her final high school party when she becomes the victim of a senseless shooting during a gas station robbery. When she comes to, she's in a place called Infinity, a collective consciousness built by humans to serve as an afterlife but that has since been taken over by Residents, artificially intelligent beings bent on subjugating humanity to slavery.
The Good Luck Girls by Charlotte Nicole Davis. Tor Teen. ISBN 9781250299703.
Two sisters were sold at a young age to a "Welcome House" and were destined for a life of sex work. But after the younger sister accidentally kills a customer, the girls take off with three other "Good Luck Girls." Pursued by law enforcement and supernatural forces, they must survive at all costs.
Legendborn by Tracy Deonn. S. & S./Simon Pulse. ISBN 9781534441606.
Bree is driven to find the truth about her mother's death and its connection to a college secret society rooted in the centuries-old legends of King Arthur, and she will need to call on her own magic to find answers. The detailed world-building, fast-paced plot, and richly drawn diverse characters successfully bring to life a world where medieval magic meets African American root work.
Wings of Ebony by J Elle. S. & S./Denene Millner. ISBN 9781534470675.
Seventeen-year-old Rue's life was forever changed the day her mother was shot and killed before her eyes. In what feels like an instant, she is whisked away from her half-sister Tasha to live with her previously absent father in Ghizon—a world filled with magic wielders because oh, she's half-god and magic is real.
We Hunt the Flame by Hafsah Faizal. (Sands of Arawiya: Bk. 1). Farrar. ISBN 9780374311544.
Zafira lives her life on the fringes as The Hunter of the Arz, a terrifying forest no one would dare to penetrate. She must hunt to feed her village, and if she is discovered as a woman, her life will be over.
My Plain Jane by Cynthia Hand, Brodi Ashton, & Jodi Meadows. HarperCollins/HarperTeen. ISBN 9780062652775.
This standalone alternate history novel inserts teenaged aspiring author Charlotte Brontë into the world of her own making (with the addition of ghosts) as she chronicles the life of her best friend at Lowood, Jane Eyre, as inspiration for her first novel.
Raybearer by Jordan Ifueko. Abrams/Amulet. ISBN 9781419739828.
When Tarisai successfully earns a place on the Council of 11, she is happy to be one among others, with little interest in the higher honor of being bonded to the Crown Prince through the Ray and carrying out her mother's plan of assassination. Blending fantasy, Nigerian folklore, and a complex and engaging set of relationships, debut author Ifueko pits loyalty to self against family obligations, newfound friendships, and love.
The Dark Tide by Alicia Jasinska. Sourcebooks/Fire. ISBN 9781728209982.
Lina Kirk and her brother, Finley, live in Caldella, an island city in danger of being swallowed by the rising inky tide waters. Every year the queen chooses an islander boy to sacrifice to keep the waters calm for another year.
Goddess in the Machine by Lora Beth Johnson. Razorbill. ISBN 9781984835925.
When Andra awakes after 1,000 years of cryonic sleep, she has a lot of catching up to do. She was supposed to end up with her family on an Earth-like planet orbiting Andromeda; instead, she awakes to a desert planet awash with dust, corrupted nanobots, and a rogue prince named Zhade who's willing to use her to reclaim a throne that is rightfully his.
Reverie by Ryan La Sala. Sourcebooks/Fire. ISBN 9781492682660.
La Sala's debut novel captures the magical, enthralling, and sometimes unsettling feelings that can come when our dreamworlds consume us.
The Kingdom of Back by Marie Lu. Putnam. ISBN 9781524739010.
Sci-fi/fantasy heavy-hitter Lu brings her talents to historical fiction in this magic-infused telling of the lives of the young Mozart siblings.
Once & Future by Cori McCarthy & Amy Rose Capetta. Little, Brown. ISBN 9780316449274.
An interstellar science fiction/fantasy adventure story that offers readers a futuristic plot-driven King Arthur retelling.
Dark and Deepest Red by Anna-Marie McLemore. Feiwel & Friends. ISBN 9781250162748.
The story begins in the present day describing Rosella Oliva's fifth-generation shoe-making family during their town's yearly "glimmer": a time of magical happenings one week every October. This time of year the shoes they craft overtake their wearers resulting in impulsive acts of love and desire.
We Set the Dark on Fire by Tehlor Kay Mejia. HarperCollins/Katherine Tegen Bks. ISBN 9780062691316.
In a Latinx-inspired dystopian setting, young women are trained to be paired as sister wives to a single husband. When Dani is paired with Carmen, her school rival, to one of the most powerful men in Media, she is surprised to find herself falling in love with her former enemy. The queer themes and tough characters make this novel rise above other dystopian offerings.
A Song Below Water by Bethany C. Morrow. Tor Teen. ISBN 9781250315328.
Tavia is sickened by the knowledge of what could happen to her if she ever affirms her siren identity in a society where sirens are persecuted and silenced—but wants to proclaim who she is, much to the dismay of her father.
The Left-Handed Booksellers of London by Garth Nix. HarperCollins/Katherine Tegen. ISBN 9780062683250.
Newly turned 18, aspiring artist Susan Arkshaw leaves home to attend college in London and to research her father's identity. However, while visiting a family friend in London, Susan witnesses his death and joins a mysterious young man in flight from supernatural Old World creatures. Soon realizing that some power is determined to stop her from solving the puzzle of her heritage, Susan gives in to the weirdness and teams up with her escape partner Merlin and his sister Vivien to find some answers.
War Girls by Tochi Onyebuchi. Razorbill. ISBN 9780451481672.
Sisters Onyii and Ify find themselves on opposing sides of a brutal civil war in this Afrofuturist adventure set in 2172 Nigeria.
The Mermaid, the Witch, and the Sea by Maggie Tokuda-Hall. Candlewick. ISBN 9781536204315.
Not just mermaids, a witch, and the sea, Tokuda-Hall also covers pirates, double agents, and the lure of forgetting.
The Epic Crush of Genie Lo by F.C. Yee. Abrams/Amulet. ISBN 9781419725487.
Genie Lo lives in Silicon Valley, but not the nice part. All she wants is to get into the Ivy League so she can escape. But then Quentin, the weird new kid at school, tells her that he's really the Monkey King and she is the human reincarnation of his weapon, the Ruyi Jingu Bang.