These delightful beginning readers feature simple sentences, accessible design, and text features that strengthen emerging readers' decoding and comprehension skills.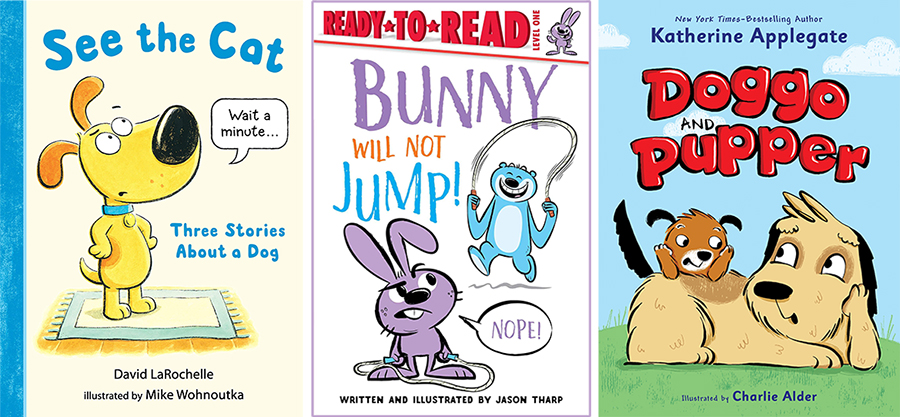 These delightful beginning readers feature simple sentences, accessible design, and text features that strengthen emerging readers' decoding and comprehension skills. And they are funny!
This purple bunny drawn in a cartoon style has foot-stompin' attitude in Tharp's entry in the "Ready-to-Read" series. So why won't Bunny jump? The problem is introduced by a big blue bear who addresses readers directly. Simple concepts, flowing word choices, and the discovery that Bunny
loves
to jump will have children realizing
they
love to read.
Doggo and Pupper by Katherine Applegate. illus. by Charlie Alder. Feiwel & Friends. ISBN 9781250620972.
In this new early reader series, Doggo is content with his predictable routine of eating, napping, going for walks, diving in the trash, and just generally being the dog of his house. In seven short chapters, this tale is a great match for children on the path to chapter books.
A humorous, self-referential, fourth wall–demolishing easy reader features a dog who seems to be at the mercy of the storyteller—or is he? Children will find a reflection of their own reading journey as well as amusement at the metafictive aspect of a dog wrestling with a book
Pass the Ball, Mo! by David A. Adler. illus. by Sam Ricks. (Mo Jackson: Bk. 3). Viking. ISBN 9780425289785.
Mo is the shortest player on the Bees basketball team, but he has big dreams.
The Shark Report by Derek Anderson. illus. by author. Penguin Workshop. (Benny McGee and the Shark: Bk. 1). ISBN 9780593093382; ISBN 9780593093399.
Benny McGee has learned a lot about sharks for his report, but he is bewildered when a great white shark follows him home from school.
Putuguq and Kublu and the Qalupalik by Roselynn Akulukjuk & Danny Christopher. illus. by Astrid Arijanto. Inhabit Media. ISBN 9781772272284.
Putuguq and his older sister Kublu are warned by their grandfather about the Qalupalik, a nightmarish, mermaidlike creature who captures those who wander too close to the water.
Jack at Bat by Mac Barnett. illus. by Greg Pizzoli. Viking. (A Jack Book). ISBN 9780593113820.
Jack the rabbit is back, and this time he's on a baseball team.
The Best Friend Plan by Stephanie Calmenson & Joanna Cole. illus. by James Burks. S. & S./Aladdin. (Adventures of Allie and Amy: Bk. 1). ISBN 9781534452510; ISBN 9781534452503.
Inseparable besties Allie and Amy make their summer plans, including getting their fortunes told, attending the Spring Fair, skating and singing backwards, going swimming, and making a new list of things to do.
I Dig by Joe Cepeda. illus. by author. Holiday House. ISBN 9780823439751.
On an ordinary, breezy day at the seashore, a wave deposits a small blue shovel on the sand and it turns out to be just the right size for the younger boy.
This Is Gus by Chris Chatterton. illus. by author. Penguin Workshop. ISBN 9780593097366.
Gus is a grumpy, stubborn dog, but things change when he is given a tiny dog as a companion.
Rafi and Rosi Music! by Lulu Delacre. illus. by author. Lee & Low. (Rafi y Rosi). ISBN 9780892394296; ISBN 9780892394319.
Two anthropomorphic tree frog siblings, Rafi and Rosi, explore their surroundings and learn about the traditions of Puerto Rico.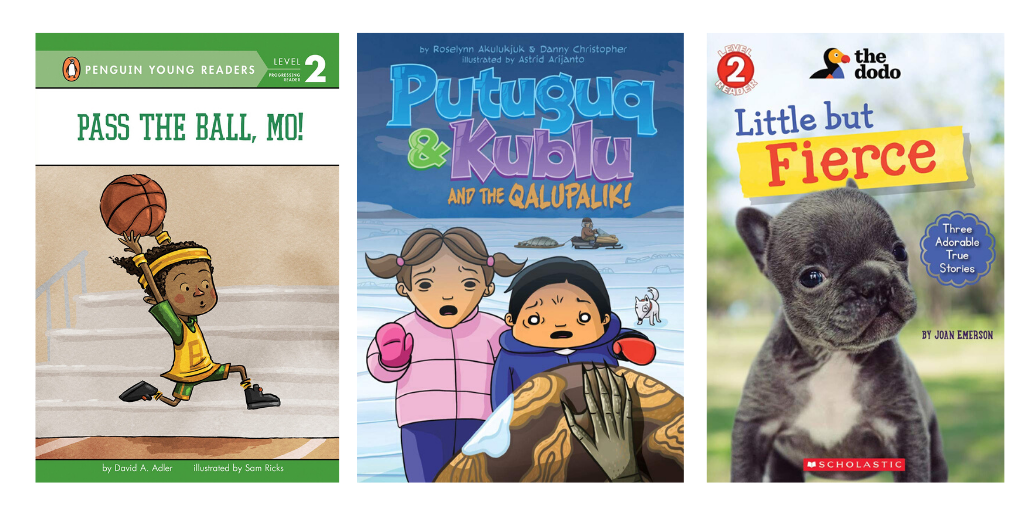 Little But Fierce by Joan Emerson. Scholastic. ISBN 9781338576191.
This nonfiction reader focuses on three adorable animals with special needs.
Meet Yasmin! by Saadia FARUQI. illus. by Hatem Aly. Capstone. (Yasmin, Bk. 1). ISBN 9781684360222.
In this delightful series starter, Yasmin learns about ancient explorers and mapmaking from her Baba, prompting her to explore the local farmer's market and plan out her journey.
Hide! by Steve Henry. illus. by author. Holiday House. ISBN 9780823437733; ISBN 9780823438907.
Mike the elephant and Pat the fish go on a boat ride together but the arrival of a shark makes for a little too much excitement.
What About Worms!? by Ryan T. Higgins & Mo Willems. Disney-Hyperion. (Elephant & Piggie Like Reading!: Bk. 7). ISBN 9781368045735.
Piggie and Elephant have a grave dilemma: Should they read a book about worms, even if they are uncertain how it will end?
Houndsley and Catina at the Library by James Howe. illus. by Marie-Louise Gay. Candlewick. (Houndsley and Catina). ISBN 9780763696627.
Houndsley and his friends Catina and Bert learn that their favorite librarian, Trixie, is leaving.
Snail & Worm All Day: Three Stories About Two Friends by Tina Kügler. illus. by author. HMH. (Snail and Worm). ISBN 9780358063643.
A silly pair of friends make lemonade out of lemons, explore a spooky cave, and get ready for bed.
Poof! A Bot! by David Milgrim. illus. by author. (The Adventures of Zip). Simon Spotlight. ISBN 9781534411036.
With a wave of his wand, Zip produces a little robot. Zip orders the bot to make him some mint tea, but gets a pie in the face instead.
Fox & Chick: The Quiet Boat Ride by Sergio Ruzzier. illus. by author. (Fox & Chick). Chronicle. ISBN 9781452152899.
Chick is a dynamo, quick to show emotion and blessed with a vivid imagination and sense of whimsy. Fox, on the other hand, is the anchor, serving as the voice of reason and logic. Despite their differences (or perhaps because of them), the two seem to find fun wherever they go.
School of Fish by Jane Yolen. Simon Spotlight. ISBN 9781534438897.
A brave little fish gets ready for the first day of school.
That's My Book! : And Other Stories by Salina Yoon. illus. by author. Bloomsbury. (Duck, Duck, Porcupine!) ISBN 9781619638914.
Three stories starring take-charge Big Duck, quiet Little Duck, and cheerful Porcupine.
A Trip to the Top of the Volcano with Mouse by Frank Viva. illus. by author. TOON Bks. ISBN 9781943145362.
Viva's companion to 2012's A Trip to the Bottom of the World with Mouse takes readers to the very top of the world: an active volcano.