Young yogis and meditation masters alike will find messages of calmness and strength in this selection of titles for a range of ages.
Young yogis and meditation masters alike will find messages of calmness and strength in this selection of titles for a range of ages.
Books To Read & Reflect Upon Together
What's in Your Mind Today? by Louise Bladen. illus by Angela Perrini. Beaming Bks. ISBN 9781506463773.
Everyone has thoughts that can cloud their brain and distract or worry them. But with simple breathing techniques and recognizing that each person has their own troublesome thoughts, it becomes easier to calm down, take a breath, and gain some peace of mind. Full of rhyme and clever poetic devices, this simple yet powerful story offers a great guided meditation for young children.
Here and Now by Julia Denos. illus. by E.B. Goodale. HMH. ISBN 9781328465641.
Using simple language to explain a complex topic, children are shown how to open their senses wide by noting that there are things going on whether they see them happening or not. Child-friendly examples include muscles growing despite the inability to feel them doing so, and broken bones and cuts inconspicuously healing over time.
Zen Happiness by Jon J. Muth. illus. by author. Scholastic. ISBN 9781338346022.
Stillwater the panda and his friends offer suggestions for young readers to achieve happiness and make the world a better place.
Kaya's Heart Song by Diwa Tharan Sanders. illus. by Nerina Canzi. Lantana. ISBN 9781911373223.
When Kaya hears her mother singing to herself while meditating, and her mother explains that "happy hearts have their own songs," the young girl sets out to discover her own heart song.
Bee Heartful: Spread Loving-Kindness by Frank J Sileo. illus. by Claire Keay. Magination Pr. ISBN 9781433831577.
Psychologist Sileo demonstrates the power of meditation in his follow-up to Bee Still and Bee Calm. The author includes a two-page note of advice for adults as well as a page of meditation scripts.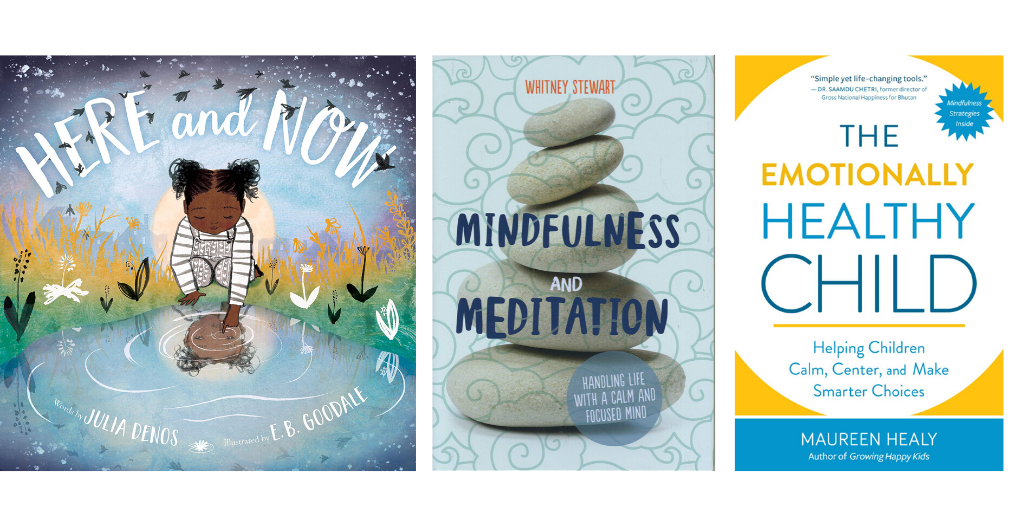 Deep Breaths by Carol Thompson. illus. by author. Rodale. ISBN 9781984893970.
Best friends Dolly the Pig and Jack the Rabbit have a disagreement and storm off in anger. Eventually, they take time to reflect on their feelings, and, after some thinking and meditation, cool off and reunite at their favorite tree, practicing their relaxation techniques together.
The Three Little Yogis and the Wolf Who Lost His Breath: A Fairy Tale To Help You Feel Better by Susan Verde. illus. by Jay Fleck. Abrams. ISBN 9781419741036.
The wolf knows his outbursts of anger are futile but still has a compulsion to demolish everything in his sight. He meets three piglet who teach him belly breathing, cooling breath, and other methods that help. Additional breathing exercises and poses are included at the back of the book.
Informational Guides for Older Kids & Teens
Meditation for Kids: How To Clear Your Head and Calm Your Mind by Laurent Dupeyrat & Johanne Bernard. illus. by Alice Gilles. Bala Kids. ISBN 9781611806205.
This step-by-step guide pays homage to meditation's Eastern roots, explaining where the practice originated, how it is an important component of Buddhism, and who the Buddha is. The author describes the physical and emotional benefits and lays out various methods, such as sitting meditation, meditation with movement, and meditating on the cycles of nature.
Rewire Your Anxious Brain for Teens: Using CBT, Neuroscience, and Mindfulness To Help You End Anxiety, Panic, and Worry by Debra Kissen & others. ISBN 9781684033768.
An approachable and empowering guide filled with exercises to help teens experiencing anxiety and emotional pain, self-recrimination, and procrastination.
Mindful Me: Mindfulness and Meditation for Kids by Whitney Stewart. illus. by Stacy Peterson. Albert Whitman. ISBN 9780807551448.
A great guide for middle graders looking to incorporate mindfulness into their daily lives. The book presents mindfulness as a means of helping young people manage emotions, stress, anxiety, and concentration.
Mindfulness and Meditation: Handling Life with a Calm and Focused Mind by Whitney Stewart. Twenty-First Century. ISBN 9781541540217.
Stewart, a practitioner of mindfulness and meditation, provides a road map for teens to follow in order to achieve balance in their lives and a proper mind-set for obtaining happiness. The chapter entitled "Anybody Listening? Mindfulness and Social Media" is timely and offers an excellent social media self-assessment.
For Parents & Caregivers
The Emotionally Healthy Child: Helping Your Child Calm, Center, and Make Smarter Choices by Maureen Healy. New World Library. ISBN 9781608685622.
Specializing in holistic health, the author details steps to "stop, calm, and make smarter choices." The focus here is on teaching children to master their emotions and move forward on their own unique paths toward wholeness through developing a healthy mind-set and habits.