Ten mysteries for independent readers ranging from laugh-out-loud interactive fun to edge-of-your-seat thrills.
These engaging mysteries run the gamut from sweet and gentle magical capers to exciting tales of international intrigue.
The Powwow Thief by Joseph Bruchac. illus. by Dale DeForest. Reycraft. (Powwow Mystery). ISBN 9781478868682; ISBN 9781478868965.
Marie Longbow and her twin brother Jamie accompany their grandparents to a powwow to sell jewelry and regalia. After the family returns from participating in the Friendship dance, they find that Grama's best piece of jewelry is missing. Using both brains and brawn, the twins track down a surprising thief.
King & Kayla and the Case of Found Fred by Dori Hillestad Butler. illus. by Nancy Meyers. Peachtree. ISBN 9781682630525.
The Geisel Award-winning creators return with a lost dog mystery perfect for young mystery fans and dog lovers alike.
Rory Branagan: Detective by Andrew Clover. illus. by Ralph Lazar. Penguin Workshop. (Rory Branagan: Detective: Bk. 1). ISBN 9781524793647.
A series debut. Three years ago, Rory's father went missing. His mom is keeping secrets and he has hardly any information to go on but, aided by his friend Cassidy, Rory begins to gather evidence to crack open the case.
Mystery on the Ostrich Express by Laura James. illus. by Emily Fox. Bloomsbury. (Fabio the World's Greatest Flamingo Detective: Bk. 2). ISBN 9781547604593.
Fabio the flamingo detective is back to solve the next mystery, a stolen necklace on the Ostrich Express, in this endearing and colorful sequel.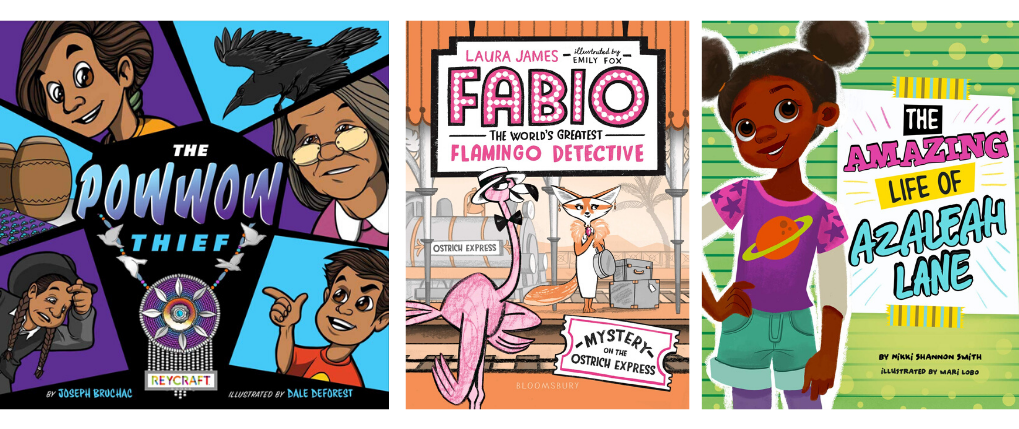 Chapter Two Is Missing by Josh Lieb. illus. by Kevin Cornell. Penguin/Razorbill. ISBN 9781984835482.
The narrator needs your help to find chapter two and continue the story in this highly interactive tale. With each chapter, clues are discovered, dialogue is exchanged, and readers are left questioning the very fabric of the book itself.
Sherlock Sam and the Sinister Letters in Bras Basah by A.J. Low. illus. by drewscape. (Sherlock Sam: Bk. 3) Andrews McMeel. ISBN 9781449486143.
Junior detective Sam and his friends, aka Sherlock Sam and the Supper Club, are back on the case in their third mystery set in Singapore.
Heart of Gold by Shannon Penney. illus. by Addy Rivera Sonda. Scholastic. (Cutiecorns: Bk. 1). ISBN 9781338540369.
In this sparkly, fun series featuring puppy-unicorn hybrids known as Cutiecorns., Sparkle, with the help of her friends Twinkle and Flash, must put together the clues left behind to find the thief who stole her cherished necklace.
Princess Angelica, Junior Reporter by Monique Polak. illus. by Jane Heinrichs. Orca. (Orca Echoes). ISBN 9781459823587.
Angelica, better known as Jelly, was first introduced to readers when she convinced her summer camp friends that she was a real princess. Now she convinces a new friend that she is actually a junior reporter for the city paper. What will happen when Jelly meets the reporter she's impersonating and the truth is revealed?
The Amazing Life of Azaleah Lane by Nikki Shannon Smith. illus. by Mari Lobo. Capstone. ISBN 9781515844648.
This enjoyable chapter book revolves around Azaleah and her upper-middle-class African American household and the ups and downs of family life in a Washington, DC suburb. Can she solve the mystery of her sister's missing stuffed frog and finish her diorama for school, or is she setting herself up for disappointment?
Who is the Mystery Reader? by Mo Willems. illus. by author. Hyperion. (Unlimited Squirrels). ISBN 9781368046862.
The gang from I Lost My Tooth is back in three episodic vignettes tied together by squirrels, puns, and acorn jokes. Silliness ensues as the squirrels try to figure out the identity of the Mystery Reader, a squirrel wearing a red mask and underpants.
Want More Mysteries? Try: Get Clued In: Chapter Book Mysteries & Lesson Plan Tie-Ins