In recent years, we've seen graphic novelists take on increasingly complex topics, and this year's Eisner Award nominations reflect artists' willingness to push the format to its limits, from a poignant tale of racist microaggressions to an exploration of childhood anxiety to dynamic reimagining of a misunderstood supervillain.
In recent years, we've seen graphic novelists take on increasingly complex topics, and this year's Will Eisner Comic Industry Award nominations reflect artists' willingness to push the format to its limits. From a poignant tale of racist microaggressions to an exploration of childhood anxiety to dynamic reimagining of a misunderstood supervillain, these comics are bold, fearless, and bound to resonate with readers. See below for a full listing of the nominations for children and teens, with links to their SLJ reviews.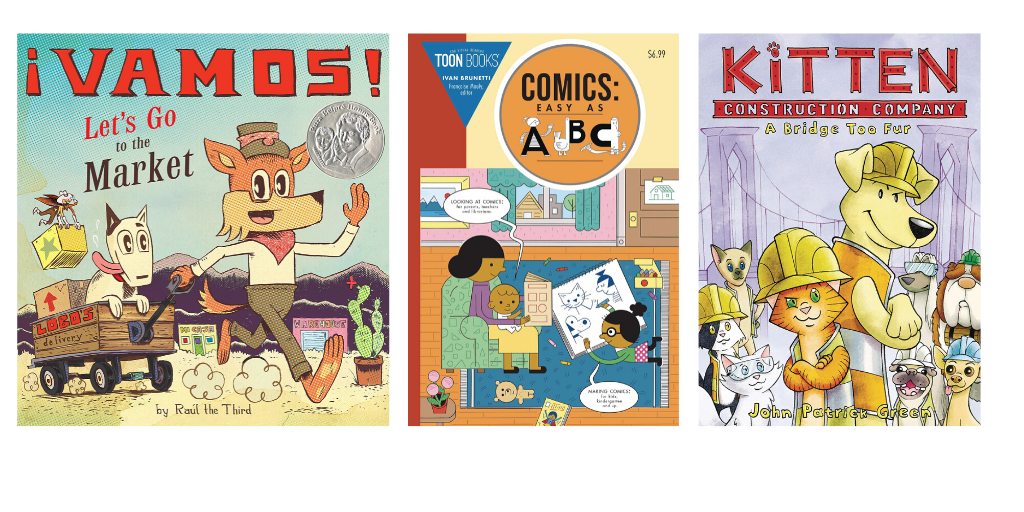 Best Publication for Early Readers
Comics: Easy as ABC!: The Essential Guide to Comics for Kids by Ivan Brunetti. illus. by Ivan Brunetti & others. TOON. ISBN 9781943145447.
Distilling every major lesson a young doodler, comic book reader, or graphic novel enthusiast would ever need, Brunetti starts slow with a simple adage to "doodle!" and then moves at a quick clip with a new lesson on each page. The inclusion of complex topics such as perspective, scale, and movement emphasizes how rich and nuanced the medium is. Drawing guides have never been so appealing.
Kitten Construction Company: A Bridge Too Fur by John Patrick Green. illus. by author with Cat Caro. First Second. ISBN 9781626728318.
After proving that cute-as-a-button kittens can build complex construction projects (in Kitten Construction Company: Meet the House Kittens), Marmalade and her crew must learn to unpack their own biases when they work on a bridge and must team up with the Demo Doggos. Green strikes a fine balance between funny and heartfelt—this one is paws-itively a great buy for most collections.
The Pigeon HAS To Go to School! by Mo Willems. illus. by author. Disney-Hyperion. ISBN 9781368046459.
Willems's famed feathered protagonist faces the inevitable—attending school—with a winning mix of chuckle-inducing bravado, honest emotion, and a child-grabbing point of view. Deftly balancing genuine concerns with humor and buoyant reassurance, this irresistible offering starring a fan favorite is sure to become a first-day-of-school classic.
A Trip to the Top of the Volcano with Mouse by Frank Viva. illus. by author. TOON. ISBN 9781943145362.
Viva's companion to 2012's A Trip to the Bottom of the World with Mouse takes readers to the very top of the world: an active volcano. The palette is beautifully simple; relying on black, cream, red, orange, gray, blue, and brown, Viva depicts a stunning and believable world. An exemplary choice for emergent readers, graphic novel lovers, and curious kids eager to learn about volcanoes (and pizza).
¡Vamos! Let's Go to the Market by Raúl the Third. illus. by author. HMH/Versify. ISBN 9781328557261.
Readers travel along as Little Lobo and his pooch deliver a wagonload of supplies to a bustling Mexican mercado, stopping along the way to watch street performers, sample tasty treats, and chat with friendly shopkeepers. Featuring endearing anthropomorphic animals, the vivacious cartoon artwork and simple text are jam-packed with Spanish words and cultural references, inviting youngsters to explore and discover while diving into the details of this delightful seek-and-find story.
Who Wet My Pants? by Bob Shea. illus. by Zachariah O'Hora. Little, Brown. ISBN 9780316525213.
After arriving at a campsite with wet pants, Reuben is shocked—and eager to know who is responsible. Slowly, his friends let him know it's OK if he wet his pants, but Reuben is sure his trousers must be broken. Cute, funny, and laced with a message of understanding and support, this one is a winner.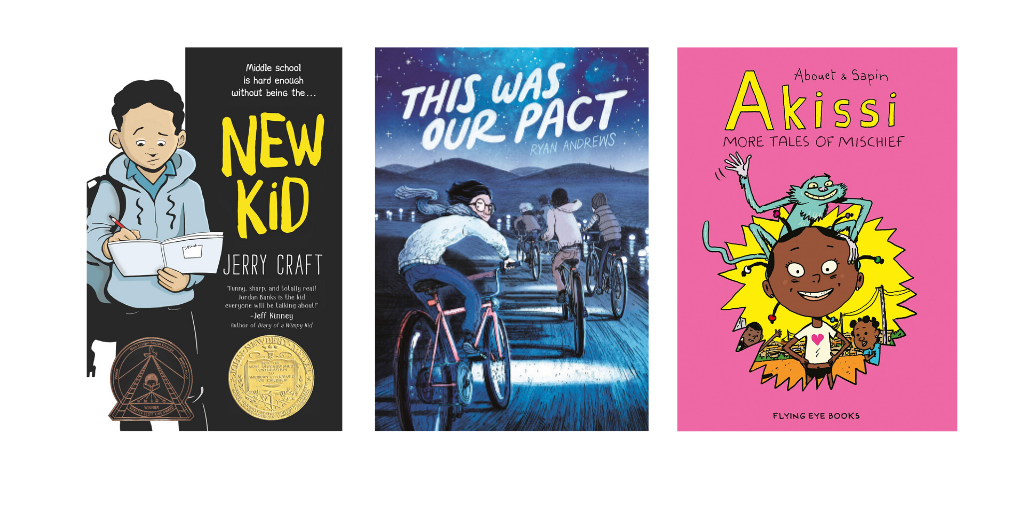 Best Publication for Kids
Akissi: More Tales of Mischief by Marguerite Abouet. illus. by Mathieu Sapin. Flying Eye. ISBN 9781912497171.
Inspired by Abouet's childhood growing up in Côte d'Ivoire, these stories of a mischievous young girl are full of whimsy and hilarity. Sapin's artwork pops with life and color; notably, the backgrounds shift hues throughout the stories, and Akissi's zany, laugh-out-loud adventures brim with appeal.
Dog Man: For Whom the Ball Rolls by Dav Pilkey. illus. by author. Scholastic/Graphix. ISBN 9781338236590.
Pilkey's latest "Dog Man" installment finds the half-man, half-dog superhero going up against a new supervillain. Meanwhile, Petey the Cat embarks on some wild and unexpected adventures of his own. Pilkey's knack for over-the-top, kid-friendly humor is on full display in this laugh-out-loud volume in the series.
Guts by Raina Telgemeier. illus. by author. Scholastic/Graphix. ISBN 9780545852517.
Following meditations on braces and sisterhood, Telgemeier contemplates her childhood anxiety, which took hold after a bout with stomach flu led to fears of vomiting in public. Her comedic timing is top-notch, balancing Simpsons-style asides and punch lines with more juvenile humor, and her younger self's exaggerated, anime-esque reactions adeptly capture her turmoil and uncertainty.
New Kid by Jerry Craft. illus. by author. HarperCollins/Harper. ISBN 9780062691200.
At his prestigious new middle school, Jordan is learning plenty: to put up with white teachers who confuse him with other Black students, to avoid the patronizing librarian who hands African American students gritty tales of inner-city woe, and, finally, to take a stand against ignorance and injustice. Craft's inspired visual metaphors and gentle cartoons render this Newbery-winning exploration of racism and microaggressions deeply relatable to a young audience.
This Was Our Pact by Ryan Andrews. illus. by author. First Second. ISBN 9781250196958.
An agreement to follow the journey of the lanterns released on the day of the Autumn Equinox Festival results in indescribable adventures for the two bravest boys who don't turn back to the safety of home. Andrews's enchanting flights of fancy, coupled with the ethereal warmth of the inky blue art, create a wondrous escapist fantasy.
The Wolf in Underpants by Wilfrid Lupano. illus. by Mayana Itoïz & Paul Cauuet. Graphic Universe. ISBN 9781541528185.
This funny story infused with a lesson about fake news opens with a fairy-tale staple: villagers confronting a looming terror, in this case a wolf with wild eyes and ice pick–like fangs. But soon the villagers realize that the friendly, goofy-underpants–clad wolf is hardly the fearsome creature of their nightmares. The closing lesson becomes a little pedantic, but otherwise this is a fast-moving, amusing narrative topped off with almost-bad words (butt! undies!) that young readers will love.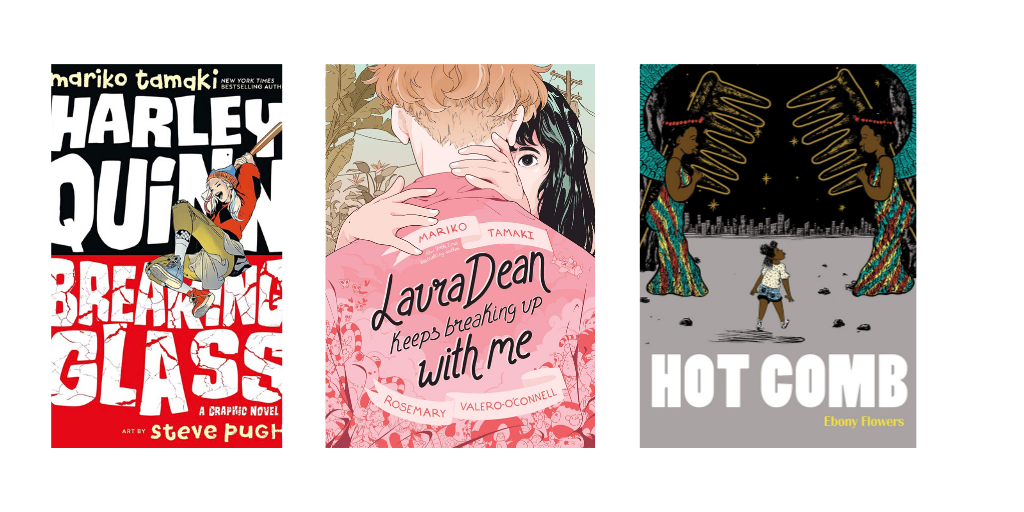 Best Publication for Teens
Harley Quinn: Breaking Glass by Mariko Tamaki. illus. by Steve Pugh. DC Ink. ISBN 9781401283292.
This mesmerizing supervillain origin story reimagines the Joker's hell-raising sidekick as a wayward 15-year-old determined to protect her newfound community from encroaching gentrification. Tamaki's pitch-perfect narration and Pugh's chaotic, superrealistic illustrations bring to life a Harley Quinn who's a volatile mix of vulnerability and impulsivity, tempered by her growing social consciousness.
Hot Comb by Ebony Flowers. illus. by Ebony Flowers. Drawn & Quarterly. ISBN 9781770463486.
This rich collection of comics brilliantly explores the ways that Black women and girls use hair care to console, construct, and criticize themselves and one another—hair serves as a way to cover up the pain of living in an unjust system, and hairstyles become a currency to purchase status. Examining how hairstyles affect the lives of Black women and girls and how perception of Black hair often shapes the way African American women and girls see their own beauty, Flowers has crafted a volume that's ideal for most public and school libraries.
Kiss Number 8 by Colleen AF Venable. illus. by Ellen T. Crenshaw. First Second. ISBN 9781250196934.
Mads, a teen living in a conservative community with her deeply religious parents, finds her world rocked. Her father is hiding something, and Mads has been wondering why her first seven kisses, with boys, aren't as stirring as kiss number eight, with her friend Laura. Though the characters aren't especially deep and they spend more time than necessary proclaiming their trans- and homophobic views, Mads's decisiveness and the clear look at how so-called "values" can mask harmful attitudes make this a thought-provoking book.
Laura Dean Keeps Breaking Up with Me by Mariko Tamaki. illus. by Rosemary Valero-O'Connell. First Second. ISBN 9781626722590.
Francesca "Freddy" Riley flakes on her friends to chase after her dream girl, flighty Laura Dean, who sends mixed signal after mixed signal. Spot-on dialogue; stunning, fluid art; and a panel structure that captures the awkwardness of adolescence create a tender portrait of first love, set in a world where LGBTQ relationships are refreshingly normalized.
Penny Nichols by MK Greg Means Reed. illus. by Matt Wiegle. Top Shelf. ISBN 9781603094481.
When sarcastic 26-year-old Penny agrees to help two strangers with their super-low-budget slasher movie, she discovers a natural talent for behind-the-scenes organizing and meets a group of like-minded new friends. Simultaneously fun, funny, gross, and sweet, with a lovely pairing of words and images, this graphic novel will inspire teens with an interest in DIY filmmaking.