It's easy to lose track of time and tasks in the current learning environment. Try these organizational strategies for faculty and students.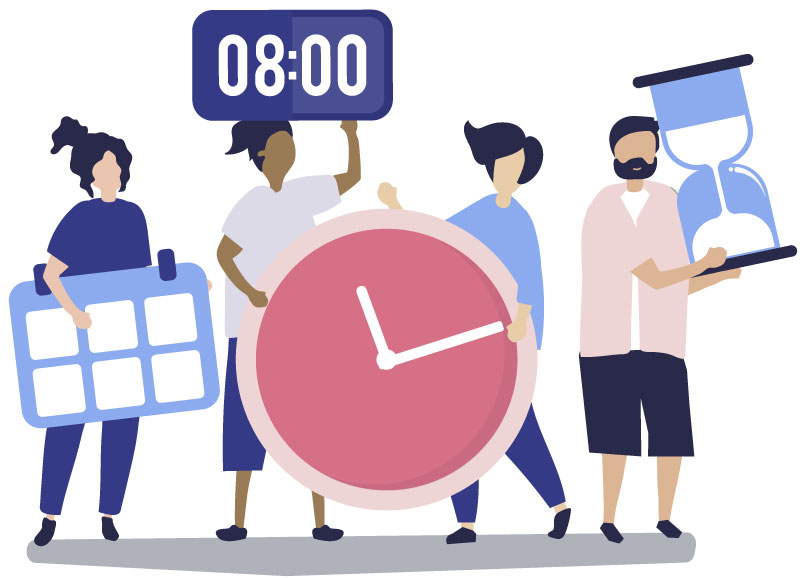 Rawpixel/Getty Images
Since my school district launched into distance learning, I have heard an array of comments from students on how they're adjusting. One mentioned finding newfound freedom to "work at my own pace," while another admitted to being "very easily distracted."
While acknowledging individual differences, it is also important to note that that distance learning has been rolled out differently across districts, and the circumstances students face in their households can vary dramatically, as well. Keeping the range of needs and conditions in mind, here are some general ways to support students and colleagues with time management and organization during this time.
Help curate district and school information
If information overload was an issue during normal face-to-face times, it is certainly the case now. In casual conversations with teachers and students, I have heard that people are overwhelmed by the number of resources, documents, and links that are being emailed and posted.
While curation involves finding, evaluating, and selecting resources, it also, vitally, requires organizing. My teacher librarian colleague Anthony Devine (@anthonyrdevine), from El Cajon (CA) Valley High School, contributed to his school community by working with site leaders to collect and organize key district, school, and teacher course-level information in a single reference document for learners. It is posted prominently on the school's website, where students and their families can now find distance learning information in one spot.
Provide customized templates for your distance learning plan
As the parent of an elementary school child, I have appreciated the straightforward delivery of distance learning content by a single teacher contact, with assignments posted in one platform and accompanied by a week-at-a-glance checklist of daily items.
Distance learning gets much more complicated as students have multiple courses and must keep track of work delivered in a variety of ways by different teachers. Providing students with tools to organize their coursework is essential. Based on my district's distance learning plan, here is sample guidance and a digital student planner template I created.
One of my students immediately customized their copy and reported that it helped them keep organized. Another didn't know where to start, but I was able to assist that student live in Google Docs while using the chat feature, and the updated planner is now serving as our baseline for regular check-ins.

Read: Six Strategies To Keep Homebound Students' Research on Track 
Create structure and make work tangible
Personally affected by the current lack of boundaries, both in terms of time and space, I have created order by using common organization techniques, and I have shared those ideas with my school community through a quick video tip series.
Do a Brain Dump.Take time to write down everything on your mind. This may include things to do, shopping list items, email replies you're waiting on, orders you've placed, etc. Write all that you can think of, from big to small and from work and home. I find that as I write, I'm able to release anxiety that comes from just trying to remember. Here is a sample printable form. However, you can use any piece of paper or type your list in a blank document.
Organize Your To Do List. After completing a brain dump, take time to organize items. Here is a sample printable template. Customize your own copy with categories and numbers of lines to match your typical workload. Alternatively, if you typed your brain dump, you can easily rearrange items into categories and order them by priority in your digital document.
Create a Schedule. Many students and teachers I know are sleeping in later now and are rejoicing in simple luxuries such as being able to use the restroom whenever they want. Still, creating a schedule for school days can be helpful. My 10-year-old daughter has been my model in this area, creating this sample daily chores and routine chart. Now, I just need to create one as detailed for myself! One thing I have implemented is to set multiple phone alarms. They're not just for waking up, but serve as reminders for events such as my weekday Zoom office hours or alerts for when to take a break from screen time.
Make Your Work Visible. While making efforts to get things done, it is just as important to stop and take time to track all that you have completed, in a paper or digital journal. Since so much work during distance learning is online and thus "virtual," keeping a log creates a visible record of what you've accomplished and provides a sense of making progress at a time when days seem to just melt into one another. Digital portfolios are a good option for students; see Devine's guidance.
Power up digital tool skills
Finally, I've come to realize that many students lack practice using general digital productivity tools. It is not uncommon that I encounter high school students who do not know how to send emails!
With students immersed in a much more digital learning environment than ever before, I am excited to explore providing mini lessons such as how to use Google Calendar to create recurring events for teacher office hours with online join links; using browser bookmarks to keep distance learning content organized in folders for easy access; and other basic but key skills.
What are other ways that you are supporting students with time management and organization during distance learning? Share your sample guidance and successes in the comments.

Read: 10 Ways To Promote Ebooks and Audiobooks to K-12 Students 
---

Suzanne Sannwald is the teacher librarian at West Hills High School in San Diego County, where she builds upon previous experiences working in education, libraries, and technology from the middle school level to higher education as well as management roles. You can email Suzanne at suzannesannwald@gmail.com or connect on Twitter: @suzannesannwald