As spring arrives, three debut YA authors discuss their writing challenges, hopes for this season, and telling the truth...even if it hurts.
Spring is here, and with it, a bit of hope. Debut YA authors Cory Anderson, Laekan Zea Kemp, and Charlie Jane Anders share their hopes for connecting with readers this year, and discuss how they mined their lives and homes to make their stories honest. As Kemp says, "that's what readers deserve."
Cory Anderson, What Beauty There Is (April 6)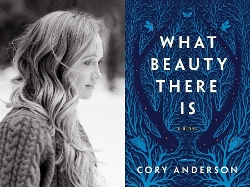 Tell us about your journey to publication. What surprised you about this process?
That it's actually happening! My journey was simple: Growing up in the backlands of Idaho, I dreamed of becoming a writer. For about 20 years I wrote stories I knew nothing about, because I didn't think my life was worth writing. As a result, they weren't very good stories. I was 36 the first time I wrote a thing about me and my thoughts, and because it mattered deeply to me, I didn't want the story to be bad. So I learned as much as I could—reading, studying, drafting, revising. Seven years later I would sell the story at auction. What Beauty There Is is that story.
What was the most challenging thing to write in this book?
It wasn't what I expected. I thought it would be difficult to write the action scenes, because they are often dark, and sometimes brutal, and for a lot of the book they drive the story. But strangely, the most harrowing moments were actually some of the easiest to write. I felt this instinct and knew I could pace them. What was most challenging were the beautiful things: the love of Jack for his brother, the dogged faith that Ava has in humanity. These were the things that were most intimate and sacred to me, because they came from my life. Like sense memories when looking at old photographs. Those moments stay with me even now. I feel haunted by them.
This story takes place in rural Idaho. How would you describe the role of the setting in this story?
The whole book is about the setting: the starkness of it, and the beauty. Because Idaho is my home and is very important to me and to other people, I wanted to do it justice. But more than to do it justice, I wanted to describe Idaho in the hopes of showing it from a new perspective. Seeing other places helps us reject stereotypes and more humbly consider our different experiences. I think it's about empathy. A story can be the first step to understanding the life of another person.
It's been a difficult year, to say the least. As we start spring, what is something you are looking forward to?
Visiting schools! I hope the pandemic numbers continue to decline so that we can safely do it. Books give us something crucial in hard times—a story, a structure, a way to talk about things of huge emotional importance. When you're discussing a story, you can talk around a hard thing, rather than talk head-on. You can make sense of it. It's been a difficult year for young people. I want to get out there and talk to them.
Laekan Zea Kemp, Somewhere Between Bitter and Sweet (April 6)
T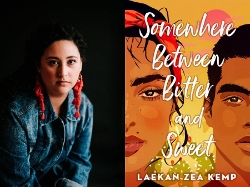 ell us about your journey to publication. What surprised you about this process?
I spent six years working on my debut novel. In that time I moved to Austin and became an ESL teacher. There was a lot of change and growth and this book was my constant through it all. When it was finally finished (or as close to finished as I could get it on my own) I knew in my gut there was something special about it. I also knew, after several years of being battered by a profession that treats teachers as if they're disposable, in an environment rife with microaggressions against marginalized staff and students, that I was not going to be able to stay in the classroom for the long-haul; that what I really wanted to do was write, and to serve my students, especially my Latinx and BIPOC students, in a way that also allowed me to serve myself. I had always known that I wanted to be a writer but every time I was faced with the choice between taking a leap of faith or sticking with the status quo, I chose the safest option, letting fear make my decisions, instead of my own heart and intuition. But this time was different. I was burned out, searching for a greater purpose, and just so happened to finally have a book that I could envision sitting on shelves next to authors I deeply admired. So I decided to go after this dream in earnest. I did a 100-page manuscript critique through The Manuscript Academy and was able to polish up the manuscript just in time for #DVPit. I pitched in April, got my agent in May, and sold the book to LBYR in June. The rapid succession of those milestones was the first surprise and at every stage since then there has been a steep learning curve. But I'm so grateful for all of the growth I've experienced alongside the growth and evolution of this story. In a way, publication day feels like a birthday for us both.
What was the most challenging thing to write in this book?
I think the most challenging aspect of writing this book, as well as with my sophomore novel, has been the process of deepening the story with each round of revisions. Everything I write, though not autobiographical, is deeply personal. So getting to the core of a story requires a lot of emotional labor on my part, and an excavation of my own memories and experiences. This isn't always easy, especially when I'm having to explore aspects of the character's identity that I might also share. There is a lot of vulnerability involved and prodding at those tender parts of myself can not only be painful but also incredibly draining. But for me, it's also the only way to end up with something truly honest, which is my goal every time I sit down to write. Even if it hurts, am I telling the truth? Because that's what readers deserve.

[Read: Three YA Authors on Yearnings, Obsessions, and Hopes]
Food is such an important part of this story. How would you describe the role of food and cooking in your family? What are some of your most favorite dishes to make?
For many Chicanes, and I think for lots of people existing in the diaspora, food is one of the few threads still connecting us to our ancestral roots. It's a part of our ancestry that is actually accessible to us. My female protagonist's longing to be at her family's restaurant and to be surrounded by the sights and smells of her father's food really mirrors the way many diaspora kids long to be connected to their roots. When you grow up on the peripheries of your own culture, not actually born and raised in your ancestral home, that kind of longing just never goes away. So for Pen, and also for me, the food in the book is sort of a salve to that and a way of connecting more deeply with one's family history. So there was a lot of research involved; a lot of learning. Growing up, there were a few traditional Mexican dishes my grandmother would make, like carne guisada and menudo. But she didn't actually enjoy cooking so there was a lot that needed to be reclaimed in order for me to write this story. I made tamales by myself for the first time and ended up with a crick in my neck from three days of making masa and folding cornhusks. I made menudo using my aunt's recipe and my house smelled like bleach for days. I realized for the first time all of the love and labor that goes into every dish; how it's this emotional touchstone and a cultural shorthand for pride and family and community. And I learned how the process of cooking food with so much cultural significance can actually create a lot of healing. I know that's what it did for me through the research process for this book and I hope readers find evidence of that and also maybe even their own form of healing in Pen and Xander's story.
It's been a difficult year, to say the least. As we start spring, what is something you are looking forward to?
After a year of isolation, I'm most looking forward to connecting with readers. As an introvert, virtual events really suit me, and as things ramp up in terms of publicity for my debut novel, I find that being able to talk to readers all over the country has really been feeding me emotionally and spiritually. I didn't realize how much I was missing those interactions. So I'm really looking forward to this book being a bridge and giving me the opportunity to build those connections that I think we're all craving right now.
Charlie Jane Anders, Victories Greater Than Death (April 13)
Can you talk abou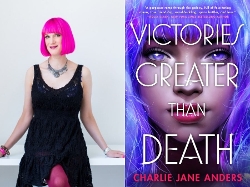 t how you constructed the world of Victories Greater Than Death?
When I started to write Victories Greater Than Death, I was thinking a lot about when I was a teenager and I used to wish aliens would come down and take me away from this planet. I was just waiting for a big beautiful starship to swoop down and collect me, and for some aliens to tell me that I wasn't really a human, and that my real home was out there, among the stars. I wanted to be off having amazing adventures and become part of a crew who had each other's backs. This is still my fondest wish, to this day. Over time, Victories became a love letter to all the escapist stories that sheltered my heart when I was a kid, from Star Wars to Star Trek to Doctor Who. I wanted to celebrate those stories, but I didn't want to create a carbon copy of them, so I put a lot of time and energy into creating a universe that felt like something I hadn't seen before. Just like when I created a magical school for All the Birds in the Sky, I didn't want to just duplicate my influences. So I spent weeks and weeks brainstorming how everything worked in my world—coming up with the Royal Fleet, and the mythos about the cyborg Queen and her princesses. I generated hundreds of pages of notes, and a complete wiki with all the aliens and different technologies in the series. Most of that stuff will never appear on the page, but having access to it helps me keep my world straight in my head, and saves me from just regurgitating what people have done before. I hope, anyway.
What was the most challenging thing to write in this book?
There were so many challenges in writing Victories. Pacing was one huge issue—I needed to establish Tina's character and her relationship with Rachael, but get both of them off Earth as quickly as possible. Just getting this whole complex universe, with its big cast of characters into a book under 100,000 words was a lot. I made a huge effort to include human teenagers who didn't come from the USA, because I wanted to bring a diverse range of Earth cultures into space. And this meant a ton of research, especially for Elza, the teen from São Paulo—a place I had never visited in person. I read a ton of books, watched a ton of Brazilian documentaries and TV shows, and spent hours and hours on Zoom with a friend in Brazil, and also learned to read and speak Portuguese, from scratch. But I think the biggest challenge was nailing Tina's arc. I wanted her to grow and have some epiphanies over the course of the book, but I didn't want her to start out as a jerk or someone who clearly had a lot to learn. I want Tina to be someone you root for and love from the very first page, but still show how her perspective and her understanding expand over the course of the book. I can't root for a character who's not growing and learning. I had to keep paying attention to the small moments of heartbreak and discovery, where Tina has to understand a different perspective. Focusing on key relationships, with Rachael and Elza especially, really helped. But I always find that the small moments are the building blocks of the big epic arcs, most of the time.
You have written books and many short stories for adults. How did it feel to write for a younger audience and why did you want to write for this age group?
I was very nervous about trying my hand at YA. I've been a huge fan forever. But I've seen plenty of authors of adult fiction move into YA and suddenly crash and burn, because they didn't understand the conventions and expectations of kidlit. So when I started working on Victories, I pulled out a dozen YA books and spread them out around me on the floor, studying their writing style and their structure to learn what I could from them. I was incredibly lucky that my editor, Miriam Weinberg, is also steeped in YA and helped me to restructure my novel to keep the pacing and voice right for teens. I wanted to write YA because I've read so many YA books in recent years that felt like fun, non-stop adventures—like Warcross, Want, and Once and Future, for example. And I've been aware for ages that you can put more overtly political themes and ideas into a YA book than into a book for adults, because teens aren't as scared of politics and activism. And ditto for LGBTQIA+ characters—teens take the existence of queer characters in stride, whereas with adults you need to hold their hand a little bit more, because grown-ups get scared off easily. Younger readers have just grown up taking for granted that there are trans and non-binary and gay people everywhere.
It's been a difficult year, to say the least. As we start spring, what is something you are looking forward to?
I can't wait until I can get back to doing in-person events, like conventions and conferences and bookstore signings. But also events like the Bookstore and Chocolate Crawl, where we used to gather a huge mob of people and visit every bookstore in a particular neighborhood, buying as many books as we could all carry. I really want to be able to celebrate bookstores again with a hundred of my friends.
---
Melanie Kletter, a teacher and freelance writer in New York City, was previously a senior editor of TIME for Kids.