These open-source writing and drawing prompts to engage elementary students in zine making don't rely on access to the internet or books.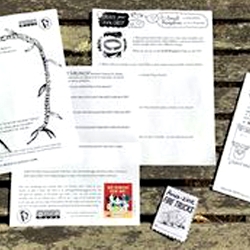 Recently I participated in a National Writing Project webinar called Beyond the Storytime Livestream, where elementary educators and picture book makers gathered to discuss the impact of COVID-19 on the classroom and to brainstorm ways for picture book creators to connect meaningfully with elementary educators in this time of virtual learning. Sandra L. Hogue from the Louisville Writing Project said, "Our goal is to encourage learning. We're going to lose major ground because we don't have these kids in front of us but anything we can do tech-wise or paper-wise to encourage learning, we have to stay that course… We're in a space where we just need to encourage learning and not get lost in all of the negative that we may be hearing about. The challenges are real but we have to stay the course no matter what."
I wanted to see if it would be possible to pilot a small-scale project that would bring together picture book makers, educators, and library staff to support "staying the course." Could we develop open-source writing and drawing prompts for elementary students that didn't rely on access to the internet, or necessarily access to our books themselves? Staff at the East Flagstaff Community Library (EFCL) in Arizona were willing to help us take up this challenge.
Barbara Tait is the library supervisor of EFCL. She and I had worked together on various grant-funded library initiatives at the Free Library of Philadelphia around young people's access to creative technology. We talked about what might actually be feasible, i.e., maximally interesting for everyone, and minimally burdensome. I invited four other picture book creators, Aram Kim, Shanda McCloskey, Doug Salati, and Mika Song, to participate. Tait and her staff reached out to educators at two nearby elementary schools, and connected with kindergarten teacher Maria Del Valle, second grade teachers Lauren Bradshaw and Rebecca Fouts, and librarian Heather Carrell from Puente de Hózhó (PdH) Elementary School, as well as Tina Hurst, instructional specialist at W.F. Killip Elementary School.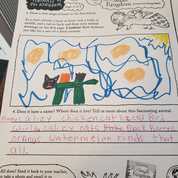 Over four weeks in May, the five picture book creators each developed a weekly writing and drawing prompt. We called them zines, as they are handmade, limited, non-commercial print items (we later referred to them as QuaranZines). Educators sent these zines digitally and physically each week to over 800 K-3 students in the Flagstaff Unified School District. At the end of the month each student had 20 writing and drawing prompts. They were encouraged to complete these activities and send them back to their teachers; then they were entered into a raffle through the library to win signed copies of the books. The zines, available in English and Spanish (translated by Rebecca Fouts), are being released under a CC BY-NC-ND 4.0 Creative Commons license, meaning they can be shared and distributed for non-commercial purposes (by anyone, we're hoping especially librarians and educators).
The key to this project's success depended on a few factors: leveraging existing connections (mine to Tait and the other picture book creators, Tait's connection to the teachers and educators in Flagstaff). The other factor was the ability to pay the book makers. The library paid a $75 honorarium for each artist's work, an amount typically lower than what some picture book creators would charge. Still, all of the creators acknowledged that it felt good to submit an invoice in the midst of economic uncertainty.



Read: 14 DIY & Crafts Books To Get Kids (and Grown-ups) Doing and Making | Summer Reading 2020
Developing the project, it felt like we were building a ship as we were sailing it. The timeline was very short; about three and a half weeks from our first conversation to the project's conclusion. The zines were more difficult to get to students than we anticipated because many teachers didn't have their addresses and were calling each parent or guardian individually. Tait herself, or her staff, would send out the zines because it was the fastest way to do it. Additionally, though several students were enthusiastic about participating, many teachers reported that students, as well as educators and school staff, were simply "burnt out." Still, Barbara urged librarians and library staff to continue doing what they could to reach and engage students.
These zines have been incorporated into summer reading throughout the Flagstaff Public Library system (all virtual programs).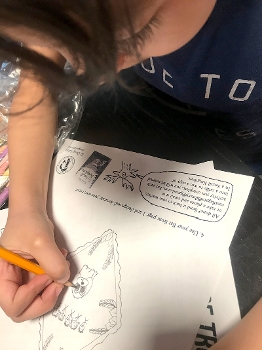 "Unfortunately some kids will be left out," Tait says, because kids in rural areas don't have the cell network to support them working. "People drive hours to visit the library. We can give as much as possible through our curbside holds pickup service, but it's limited." Fortunately, teachers and educators are planning on incorporating these zines into lesson plans in the fall.
Kim says that the project "really pushed me to articulate the way I wanted for the educators to use my book. I always hoped teachers would use my book to talk about family, food, culture, etc., but never tried hard enough to actually create a concrete guideline. Making these zines helped me think about [that]."
The short time frame was challenging. Salati says, "If we had more time before sending these out, maybe it would be great to chat with a few of the teachers involved first thing, before creating the zines to get a sense of what type of writing and work the kids are doing or need to be doing in hopes of dovetailing more efficiently into that need."
We see the project as a model to bring together three spheres of book-adjacent professionals (teachers, library staff, and book makers) who don't necessarily get to meet and collaborate. This kind of collaboration could leverage existing structures (schools already mailing materials to students) to get them free, high-quality writing and drawing prompts that aren't dependent on internet access or a printer. The project also offers a way for libraries and school districts to think about widening summer reading offerings: What would it look like to tap the expertise of author-illustrators to develop content to encourage and inspire reading, writing, and drawing, and then disseminate those resources widely, even nationally? It widens the notion of what a public library can be.
Find the zines associated with this project here. To learn more about this project please contact Barbara Tait.
---
K-Fai Steele is an author-illustrator who grew up in a house built in the 1700s with a printing press her father bought from a magician. She wrote and illustrated A Normal Pig and illustrated Noodlephant by Jacob Kramer. She illustrated the forthcoming Probably a Unicorn by Jory John and Okapi Tale, the sequel to Noodlephant. K-Fai lives in San Francisco.

READ: 8 Podcasts To Inspire Summertime Writing | Kidcasts