This Women's History Month may feel like 2020 all over again. As the pandemic interrupted many plans to commemorate the 100th anniversary of the ratification of the 19th amendment, the National Women's History Museum and National Women's History Alliance have extended their resources, events, and celebration into 2021.
Last year was the centennial anniversary of the 19th Amendment, which made it illegal to deny someone the right to vote "on account of sex."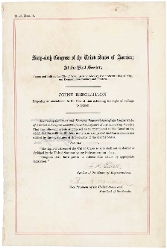 In 2020, there was to be a celebration of the U.S. suffrage movement. The pandemic, of course, changed many of those plans. Despite the challenge and disruption, the National Women's History Alliance (NWHA) called it an "amazing year of discovery and partnership."
"There have been many breakthroughs associated with the suffrage centennial because it involved many groups and government bodies throughout the country learning about the importance of women's history for the very first time," the organization stated on its website, announcing it would continue the centennial celebration and theme (Valiant Women of the Vote: Refusing to Be Silenced) through 2021. "Now, we want to push ahead to secure the progress we've made and ensure that multicultural women are never again overlooked in American history."
The NWHA website offers links to women's history and suffrage resources, as well as the Valiant Women of the Vote curriculum kit. The free kit ­includes a six-part lesson plan for grades three to eight.
There are also biographies for students to learn about the 2020–21 NWHA Honorees, which include congresswoman Eleanor Holmes Norton and her fellow civil rights leader Marie Foster, who died in 2003.
The National Women's History Museum (NWHM) is also continuing its centennial celebration. NWHM has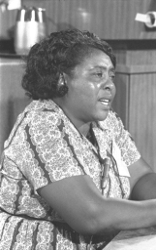 The National Women's History
Museum digital resources include
a lesson on civil rights activist
Fannie Lou Hamer.
Photo: Warren K. Leffler
many digital resources for educators. As educators and students move beyond the oft-told narrative of Susan B. Anthony, Elizabeth Cady Stanton, and other white women, these resources can help broaden the women's history perspective. The ­lesson plans include "Unsung Voices: Black Women and Their Role in Women's Suffrage," "Fannie Lou Hamer and Social Activism," and "Red Power Prevails: The Activism, Spirit, and Resistance of Native American Women."
NWHM's Women's History and Suffrage Centennial Celebration Summer Educators Institute for K–12 educators is July 24, 2021. The one-day, in-person intensive workshop will be held in Washington, D.C.
The event, which is free to public school educators, will feature speakers, breakout sessions with practical resources to support classroom teaching about women's history in the U.S., and methods for using primary sources "to ­encourage further student ­research and civic engagement."